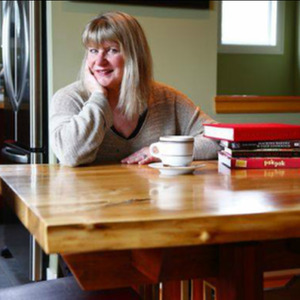 Nancy Leson
Special guest
Nancy Leson is an award-winning food writer, radio personality, cooking instructor and public speaker who learned much of what she knows about food during her first career: waiting tables. Readers embraced her for nearly two decades as the restaurant critic and food columnist for The Seattle Times. Today she conjures recipes and rejoinders as Food for Thought on Seattle/Tacoma NPR affiliate KNKX. A popular emcee, she's also hosted international food tours for Earthbound Expeditions and teaches cooking classes at PCC Cooks and other culinary schools throughout the Seattle area. She lives 15 miles north of the Space Needle with her husband and a couple of (absurdly) well-fed dogs.
from nancyleson.com

Nancy Leson has been a guest on 2 episodes.
November 27th, 2019 | 34 mins 45 secs

This episode we welcome Molly Stevens into our kitchen to chat with Nancy Leson about her new cookbook, All About Dinner. Molly answers some Thanksgiving Rapid Fire Questions, then shares insights into her career's beginning and her everyday life . Enjoy this talk and purchase your copy of All About Dinner here.

May 22nd, 2019 | 54 mins 22 secs

On our first episode, we welcome Ruth Reichl to celebrate her new memoir, Save Me the Plums. In conversation with Nancy Leson, she discusses her time at Gourmet magazine, Twitter presence, previous work and much more. Enjoy this talk and click here to purchase a copy of Save Me the Plums.