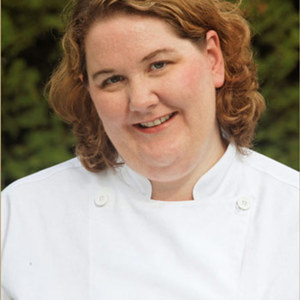 Laurie Pfalzer
Special guest
Despite years of training and experience, Pastry Chef Laurie Pfalzer still remembers being a home cook, toiling away in her kitchen discovering the art and craft of pastry and making a lot of mistakes. She once baked her way through Baking with Julia (Greenspan) so that she could systematically learn each and every pastry. Her introduction to the well-made pastry was as a child in her mother's kitchen, learning to make her mother's legendary pies and cakes. Her childhood cooking lessons have remained ingrained in her, later combined with the knowledge and skills acquired in culinary school and professional kitchens across the United States.
Laurie has worked with Master Baker Jeffrey Hamelman at the King Arthur Flour Company in Norwich, Vermont, where she learned the fine techniques of creating croissants and baguettes, among many other pastries and breads. Laurie has also created pastry in kitchens at The Wauwinet Inn on Nantucket Island, MA and Baby Cakes Bakery and Cafe in Poughkeepsie, NY.
Laurie returned to the Pacific Northwest in 2006, joining the pastry team at the Salish Lodge and Spa in Snoqualmie, WA. As the Pastry Chef at Salish, Laurie's greatest joy was working with new pastry cooks, guiding them through the learning process while infusing her passion and knowledge about baking and pastry, Northwest produce and artisanal products.
In 2010, Laurie created Pastry Craft to make learning how to create great pastry, bread and confections approachable and attainable by the home cook. Laurie encourages lively discussions with students about baking and pastry technique, seasonal produce and specialty products, and she is passionate about teaching not only the "how," but the "why" of baking and pastry. She believes that beautiful pastries, whether simple or elaborate, can be made in your own home with a little knowledge and dedicated, hands-on guidance.
Laurie is a graduate of the Culinary Institute of America in New York, where she achieved top honors. She also holds a bachelor's degree from the University of Washington. She is a member of Seattle Chef's Collaborative and Slow Food. She teaches around the Puget Sound area, including for PCC Cooks at PCC Natural Markets.
Laurie is proud to work with many non-profit organizations including Youth Eastside Services, the Starlight Foundation, Seattle Children's Hospital, Shoreline High School Robotics Club, Seattle Waldorf School, and Meadowbrook Farmers Market.
fromwww.pastrycraftseattle.com

Laurie Pfalzer has been a guest on 1 episode.
March 4th, 2020 | 34 mins 32 secs

This episode we welcome Laurie Pfalzer into our kitchen for her cookbook, Simple Fruit. Laurie tells us about her love of fruit, how she created this book and all about her deep appreciation for recipe testers. Enjoy this talk and purchase your copy of Simple Fruit here.