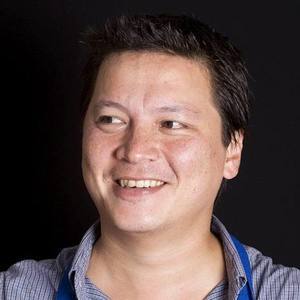 J. Kenji López-Alt
Special guest
I spend the majority of my time with my toddler. I'm also the Chief Culinary Advisor for Serious Eats, home of the best, most thoroughly-tested and explained recipes and food features, well, pretty much anywhere. I'm also the chef (and a partner) at Wursthall in San Mateo, a German-inspired California beer hall and restaurant. You can try some of my food there. I'm also a huge fan of Backhaus, a San Mateo bakery specializing in naturally-leavened sourdough, pretzels, and European-style pastries (full disclosure: I have financially involvement with their business). I live in San Mateo with my wife Adriana, my daughter Alicia, and our two dogs, Jamón and Shabu.
I'm going to switch to third person here because I think my publicist wants me to write the fancy stuff that follows, but it still feels awkward to me. So here: His first book, The Food Lab: Better Home Cooking Through Science is a New York Times Bestseller, winner of the James Beard Award for General Cooking, and was named Book of the Year by the International Association of Culinary Professionals. It is available wherever books are sold. At nearly 1,000 pages with over 300 foolproof recipes, it's a grand tour of the science of cooking explored through popular American dishes, illustrated in full color with thousands of photographs, charts, graphs, and do-at-home experiments.
Ta-da! Thus ends the third person portion of the show.
The remainder of the show has been cancelled. Those responsible for the cancellation have been sacked.
bio and picture from http://www.kenjilopezalt.com/bio
J. Kenji López-Alt has been a guest on 1 episode.