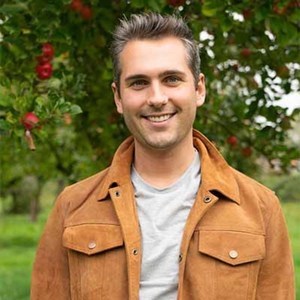 James Rich
Special guest
He is a cider-maker's son, and his family has been making a living from the land for centuries. James grew up in the countryside, helping his Dad at work; planting the orchards, pressing the apples to gather the juice, and even helping to clean the giant 80,000-pint (45,000-litre) oak vats that are used during the fermenting process for cider. A passionate home cook, as a child James was encouraged to explore food and flavour in the kitchen by his grandmother, who showed him the basics and helped develop his cooking. He now divides his time between Somerset and living in London, working as a food writer and brand consultant.
from jamesrichcooks.com

James Rich has been a guest on 1 episode.
October 21st, 2019 | 28 mins 24 secs

This episode we welcome James Rich to our kitchen for his new cookbook, Apple. James discusses the history of apples, his family connection to them and the best way to show them off. Enjoy this talk and purchase your copy of Apple here.