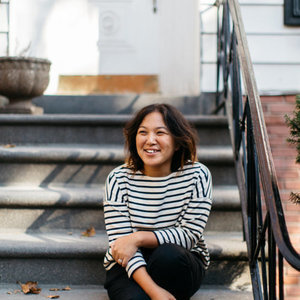 Hetty McKinnon
Special guest
Hi, I'm a salad-maker.
I started making salads from my tiny terrace kitchen in Surry Hills, Sydney in 2011. Twice a week, I would dream up hearty, delicious, vegetable-packed salads, pack them onto the back of my bicycle and cycle them around my neighbourhood, delivering lunch to locals.
I called my little project Arthur Street Kitchen, because I lived on Arthur Street and my home kitchen was my happy place, where I would spend countless hours creating and feeding.
Soon, the local salad-eaters became an intrinsic part of my community. The exchange of the salad box was accompanied by lively conversation, exuberant laughter and a constantly evolving hunting and gathering of stories and histories. The salads came to represent the joyful connection that is felt when cooking and sharing food with others.
This phenomena of sharing salads soon went national, with the release of my first cookbook Community, which told my story of sharing salads in Sydney and featured sixty of my hearty, plant-based salad recipes. My second cookbook, Neighbourhood, was recently released in Australia and is set for a USA release in Summer 2017.
I have been vegetarian for over twenty years, but my food is not just for vegetarians. My plant-based recipes are truly egalitarian, for every person who enjoys a flavour-packed, vegetable-heavy dish. No labels required.
I continued to deliver salads in Surry Hills for four years. In 2015, our family was given the opportunity to move to New York City. It has always been my dream to live in the Empire State, so, with heavy hearts, we packed up our family, and my kitchen, bid adieu to my beloved community and headed Stateside.
My husband and I, and our three children Scout, Dash and Huck, now live in a leafy part of Brooklyn. Here, I continue to make friends with salad.
from www.arthurstreetkitchen.com

Hetty McKinnon has been a guest on 1 episode.
July 10th, 2019 | 47 mins 12 secs

This episode we welcome Hetty McKinnon into our kitchen to discuss her latest cookbook, Family. Hetty created Arthur Street Kitchen in 2011 in her Sydney, Australia home to make and serve salads to her community. That endeavor led to her trio of cookbooks, a food journal and eventually to an event space in Brooklyn, New York. Enjoy this talk and purchase your copy of Family here.