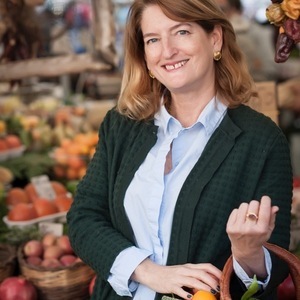 Elizabeth Minchilli
Special guest
I started out life as an academic, working on my dissertation on sixteenth-century garden architecture. During a break from working in the Medici archives, I met my husband – Domenico – and decided that maybe I didn't really want to go back to the States and teach undergraduate art history somewhere in the midwest. So I changed gears and very soon had a husband, babies, dogs and a brand new career writing for magazines like Architectural Digest, World of Interiors, Art & Antiques and Bon Appetit.
from www.elizabethminchilli.com

Elizabeth Minchilli has been a guest on 1 episode.
July 24th, 2019 | 26 mins 47 secs

This episode we welcome Elizabeth Minchilli into our kitchen to discuss her cookbook, The Italian Table. A former academic, Elizabeth now leads food tours throughout Italy, blogs and wrote the app, Eat Italy. The Italian Table showcases typical and delicious Italian menus to help you visit Italy from your own kitchen. Enjoy this talk and purchase your copy of The Italian Table here.