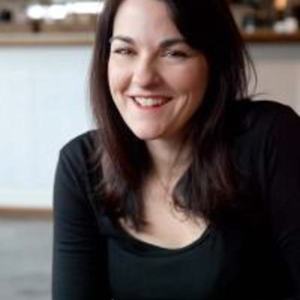 Danielle Centoni
Special guest
Danielle Centoni from http://www.roux44.comI'll admit it. I was a weird kid. I didn't like pizza. Or hot dogs. Or hamburgers. I hated the fizziness of soda. And I have vivid memories of gagging over the rubbery fake cheese at Taco Bell.
But that doesn't mean I was a picky kid. I like to think I was just choosy. I loved food. In fact, I was obsessed with it. I named my teddy bear Peanut Butter. My guinea pig was Apples. My love birds were Peaches and Cream. Although I wasn't big on kid food, I loved everything else: my grandma's cioppino, my dad's smoked oysters on crackers. Chinese takeout.
I grew up in the Bay Area and started cooking young, with my Easy Bake oven of course, before graduating to Pillsbury cinnamon rolls in the cardboard tube. By the time I left for college, I was making tiered wedding cakes with rolled fondant, baking my own bread, and catering meals for my mom's office.
I turned my obsession into a career in 2000, when I became the food editor at The Oakland Tribune and its five sister publications. In 2005 I moved to Portland, Ore., and joined The Oregonian's FOODday staff, writing, editing and developing recipes for one of the nation's best food sections. In 2010 I transitioned to the super fun, full-color world of magazines, first as the senior editor of Imbibe Magazine, then as the editor of MIX Magazine, Portland's premier magazine of food and drink. In 2014, I took a deeper dive into digital media as the editor of Eater Portland.
In addition to my staff jobs, I keep very busy freelancing for a range of publications, including EatingWell, Slate, Modern Farmer and Seattle Magazine. I consult on product ideation and media strategies for SRG. I edit cookbooks and test recipes, and I write cookbooks, too. I co-authored "Mother's Best: Comfort Food That Takes You Home Again" (Taunton, 2009) with chef Lisa Schroeder of Mother's Bistro, and "The Sugar Cube" (Chronicle, 2012) with pastry chef Kir Jensen.
For 15 years and counting I've been creating recipes, writing stories and helping others tell theirs. I'm a cook, a writer, and an editor at my core. I can't imagine doing anything else.
from roux44.com

Danielle Centoni has been a guest on 1 episode.
January 29th, 2020 | 20 mins 30 secs

This episode we welcome Danielle Centoni into our kitchen for her cookbook, Fried Rice. Danielle explains her inspiration for this book, how she became a cookbook author and some technique tips for creating the perfect fried rice. Enjoy this talk and purchase your copy of Fried Rice here.